Richard Franklin Company
Glendale, CA
Portland, OR
(NCAA Football)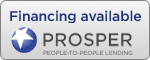 Need financing?
Prosper.com, the online marketplace for people-to-people lending can lend you the funds you need. It's easy, convenient and fast. Let Richard Franklin Company help you though the process, with personal loans for any reason up to $25,000. Contact us today (click on the Prosper Icon below) for assistance with setting up your own borrower profile, and with instructions on how to join our group. Once your loan is fully funded, Prosper deposits the money directly into your checking account, usually within two to four days.
Borrowers
You will have a better "Prosper" experience if you join a group before listing your loan request. Your Group Leader will guide you through the process, and make sure you get the most out of your listing. For example, did you know there is a bidding "sweet spot" that greatly improve your chances of not only funding, but driving your rate down lower! Email us for details.
Coming soon, step by step instructions on joining Prosper, becoming a member of our group, and setting up your loan.
Lenders
Lenders, looking for information on how to set up your bidding? Start Here
Want to know more about Prosper? Some background info.

Thank you for visiting.
[ The Franklin Letter ] [ The Franklin Poll ] [ Ebay.htm ]